---
Become a Corporate Member
Our membership program prepares your organization to face the evolving challenges of medical device security. Gain access to leading educational resources, exclusive training, and valuable networking opportunities with world leaders and industry peers. Learn More About Our Corporate Membership ›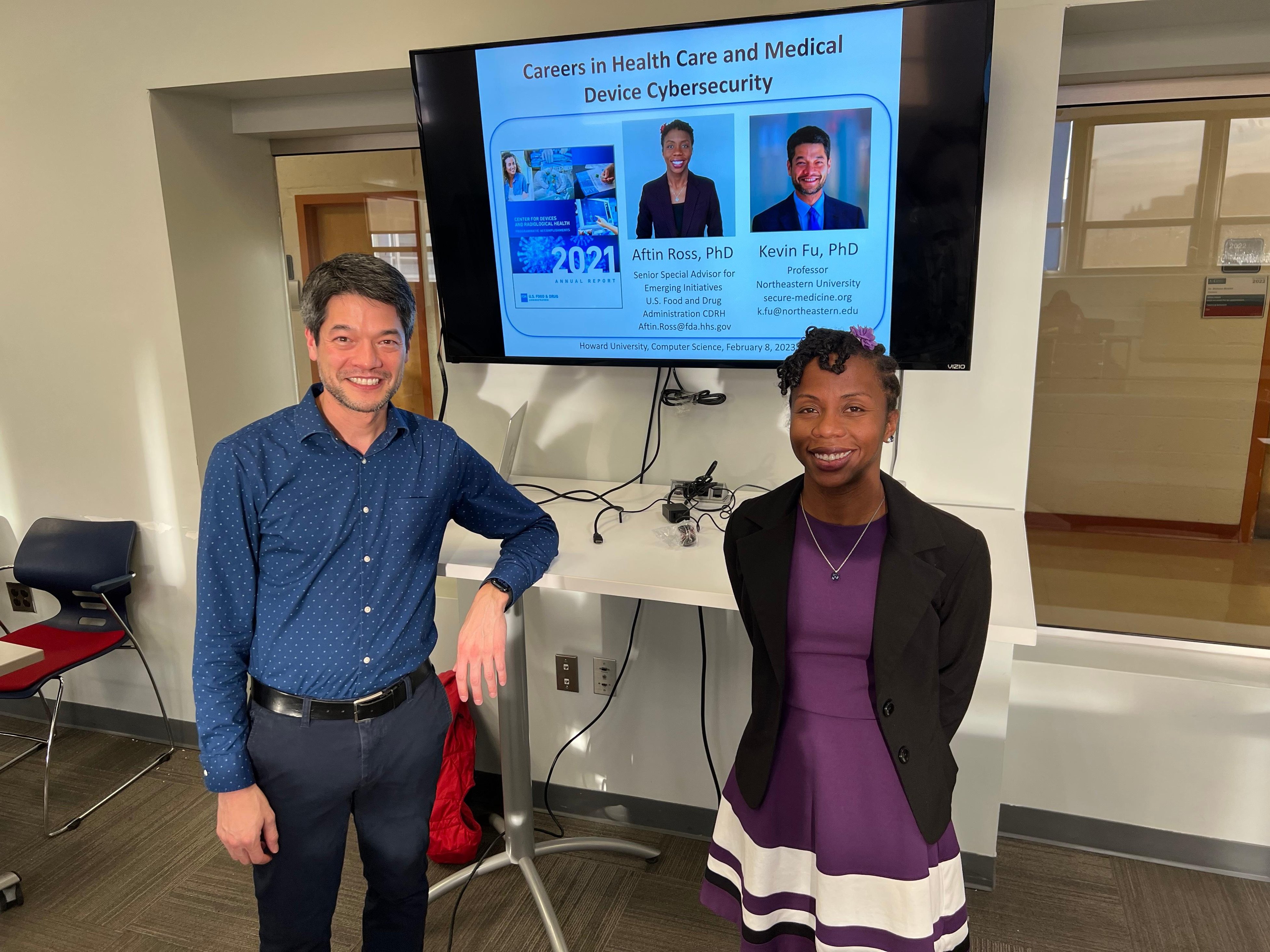 Dr. Kevin Fu of Northeastern University and Dr. Aftin Ross of U.S. FDA greet Howard University computer science students considering careers in health care and medical device cybersecurity.
(February 8, 2023, Washington, DC) The month of February is when we all come together and celebrate Black History Month. As part of our commitment to DEI and the "Computer Science for everyone" vision of the Khoury College of Computer Sciences at Northeastern University, Archimedes is organizing seminars on medical device security at HBCUs. Professor and Archimedes Director Kevin Fu joined Dr. Aftin Ross of the U.S. Food and Drug Administration to inspire computer science students at Howard University in Washington, DC to consider career opportunities protecting medical device cybersecurity.
Archimedes Founder and FDA's Dr. Kevin Fu weighs in on the current situation of hackers in medical device security. Read more here.https://politi.co/3oWlU9Y
SAVE the Date!
Join us August 11 at 9am for an Archimedes Medical Device Security Summer Webinar featuring the FDA's Dr. Kevin Fu! Stay tuned for more details!
In the news..
Catch Archimedes, Executive Director, Bill Aerts in a candid interview, a Q and A, as well as a quick live demonstration from our Research Associate, Connor Bolton on AAMI Rewired today at 11:00ET. Learn more about the event at https://hubs.ly/H0Q09pV0
NEED to KNOW:
ICYMI: A response to President Biden's Executive Order on improving #cybersecurity of the Federal Government. https://hubs.ly/H0PRtYl0
Kevin Fu Fills new leadership position at FdA's Center for Devices and Radiological health, overseeing medical device security
It's official! As discussed at our virtual event last month, we have exciting news to share about Archimedes Founder and Chief Scientist, Dr. Kevin Fu. Please take a moment to read the announcement by the EECS: Computer Science and Engineering; University of Michigan:
Interested in joining the conversation on medical device and embedded systems security training?
We need your opinions!
We are continually looking for ways to engage our members, partners and friends within our Archimedes Circle. We are excited to revitalize our offerings to include surveys to encourage information gathering for developing and rebuilding programs, finding solutions and gaining insight into what other organizations are doing.
Archimedes is conducting a short survey focusing on medical device and embedded systems security training and education. The goal of the survey is to determine overall satisfaction with the available industry wide training and education offerings, any shortcomings and their impact, and what needs there are for future training and education. Please take a moment to share your anonymous thoughts and recommendations as it pertains to your experience and your organization.
We will share our findings on our website when they become available. As always, we welcome your suggestions, comments and conversation, by emailing us at archimedes@umich.edu.
---
New Name Highlights Our Commitment to All Archimedes Members


In true 2020 logic, we made a little change at Archimedes as well! We decided to enhance our logo to represent both sides of our membership, adding healthcare to our official name. We assure you the commitment, the focus, the events and the education still remains the same!

Stay tuned for more details on what 2021 will bring. In the meantime, please take a look at our Archimedes highlight document that summarizes where we have been, where we are and where are going.
---
Archimedes stands in solidarity. #blacklivesmatter #strongertogether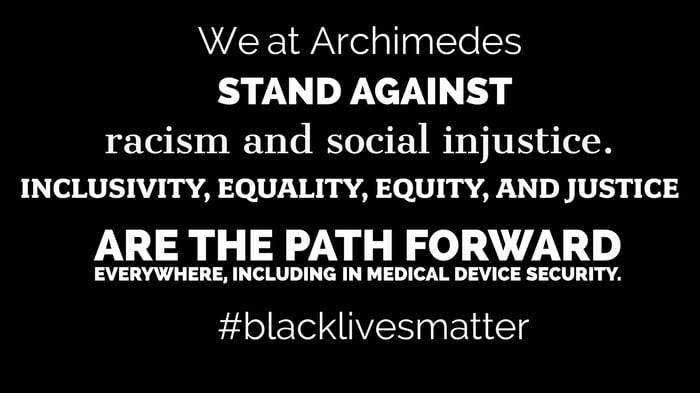 ---
ICYMI:
Archimedes and the
Design of Medical Devices Conference
teamed up this week to bring followers:
Hacking the Future of Healthcare presented by Nina Alli, Biohacking Village and Beau Woods, The Atlantic Council. Catch the recorded webinar
here
---
Our Leadership Workshop Webinar Series Launches June 3 for Archimedes Members!

Members, check your emails, follow us on Twitter and stay tuned for more information on joining us VIRTUALLY on June 3!
---
Dr. Kevin Fu's Conversation with UofM's Michigan Today on Probing Tech's Soft Underbelly
"Too often, people have a sense of complacency and a feeling that bad things can never happen," Fu says.
Read the full article
---
Dr. Kevin Fu Contributes to Guidance on Decontamination N95 Masks During COVID-19 Pandemic.
"I think there's a lot of uncertainty among the healthcare systems on the science behind different decontamination methods," Fu said. "We provide a rigorous scientific assessment to reduce the uncertainty. There is no perfect method. Decision-makers need to make their own choices given their local circumstances and conditions."
In this consortium, Fu was involved in co-organizing the interdisciplinary team and advising on regulatory science issues. Read more about the efforts of Fu in the article Guidance on decontaminating face masks: U-M researchers contribute to national effort released by the University of Michigan.
To learn more about the group N95DECON and their official research please visit www.n95decon.org.
---
November 4, 2019
Kevin Fu speaks to NBC Nightly News about his team's discovery of a microphone vulnerability found in Siri, Alexa, and Google Home
The team's work is presented in the paper "Light Commands: Laser-Based Audio Injection Attacks on Voice-Controllable Systems," with additional information online at https://lightcommands.com/
---
September 17, 2019
University of Michigan students from the SPQR lab represent Archimedes at DEF CON 2019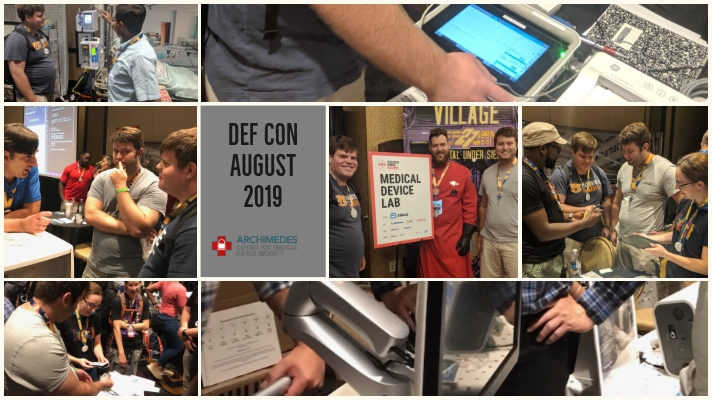 "Through Archimedes, Ben Cyr and I were able to attend DEFCON this year for the first time. For those that have not been to DEFCON, to say the least it is certainly a different kind of event due to the interesting talks, the mob of hackers stumbling around Vegas, hands-on security workshops, and the "villages" with direct access to products such as medical devices or voting machines. We knew we had truly arrived when an ambulance passed by and a random attendee commented on how "cool" it would be if someone had hacked a pacemaker.
In between the craziness described above, we managed to have several productive conversations with medical device manufacturers and attended several interesting talks — particularly at the Biohacking Village. This village included medical device themed talks, hands-on workshops, and a medical device lab. Ultimately, we spent the majority of our time at the medical device lab partially due to full physical access to examine (and hack) several of the devices. But even more importantly, we could talk medical device security with several software and hardware engineers from attending medical device companies. On our end, we believe the relationships and ideas born from these interesting interactions may lead to future research. Similarly, I believe these conversations may have helped these engineers consider new threat vectors. Overall, this experience was very fruitful and fulfilling, and we hope to attend next year and see more medical devices there!"
-Connor Bolton
Graduate Research Assistant